Today's Guardian is full of really good stuff today.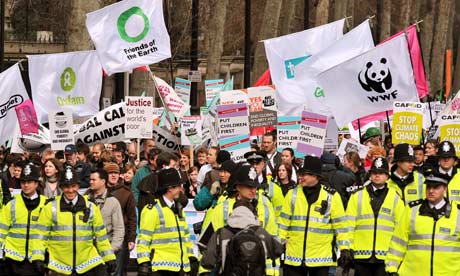 First we have the German banker who's been taking money out of rich people's accounts and transferring it to the poor.

Get in! I wonder if she's one of these German's I spoke about a while ago who have asked the government to tax them more.

Then we have lying cops getting caught out again.

The police chief in charge of the G20 counter operation explicitly told the Commons that there were no undercover teams on the day. Turns out Commander Bob Broadhurst is a complete liar and there were 25 plain clothes police officers mingling with the crowd that day.

Don't worry Bob, you wont get fired. I mean nothing happened to coppers who made up all that stuff about the camp for climate action. Parliament genuinely doesn't care if you lie to it - it really doesn't.

And lastly we have a possible case of sub-editors revenge. John Crace writes an article on how to deal with bullying and stress at work. There's an interesting choice of first words to the piece which bear little relation to the rest of the article, namely; "Change a word and I'll kill you."

Pardon John? Is this a post-modern meta-deconstruction of an article about bullying at work where you fake bullying the sub-editor, in which case it's very subtle... or more simply is it just the sub taking you at your word and leaving in every damn word. I can't decide.