Simon requests that I say something about "right-wing Greens" no doubt to help people come to terms with the fact that the Green Party here-abouts stands on a clearly left-wing manifesto yet we hear about greens in foreign lands, and sadly sometimes closer to home, who're not exactly over burdened with socialist credentials.


I think this is a useful and interesting topic, so useful and interesting in fact that I'm going to take a little bit of a run up to it, so this is going to be the prequel to the readers request post itself.

The reason for this is not just that I'm an insufferable windbag who can't stop blathering on, it's also because I'd like to quickly grapple with a couple of points that would only clutter up the Green Right post.

The first is on the left-right spectrum and the second is the nature of parties.

I'm not one of those people who think that it's possible to step outside of the left-right axis. Loosely defined the left are people who want to see society become more egalitarian and are willing to challenge existing social structures to do so, and the right are those who hope to preserve the current way of doing things, or even move things backwards so that capitalism can function free and unhindered.

Whatever your politics you are somewhere on this scale. Objectively you will be either reinforcing inequality or challenging it no matter how slick your "new politics" PR machine may be.

However, this axis has never been an adequate way of describing someone's politics meaningfully. Simply saying that someone is more left or right wing than someone else is unlikely to tell you much about their politics unless you're hindered by a truly ultra-orthodox dogma.

For instance, there are people on the right who want a small state, low taxes, and think that the law should regulate the absolute minimum amount. There are others on the right who believe in a strong, authoritarian state with rock hard legislation to prevent anyone messing with an employer's right to make money - by joining a union or being unwell. Neither side of the big/small state argument is more or less right wing by default - they just disagree.

Add to this the complication that whilst political philosophies may be ideal types human beings rarely are. You can have those who do a bang up job challenging sexism but who despise immigrants. There are those who want to see radical progressive taxation create real redistribution of welath and who think the Queen is goodness personified. People are lovely and messy like that.

Then add on top of all this that sometimes political questions can be pretty tricky. For years even the most hardened socialists debated whether 'revolutionaries' should be members of the Labour Party. Whatever nuance you put on it you either end up with a party card or you don't and it's pretty hard to co-exist in the same organisation when glaring differences in strategy flow from that decision.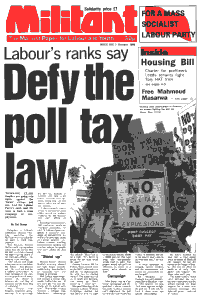 That's why I think it's fair to say that the thing that most divided the politics of the SWP and Militant in the eighties was not a competition about who was the most left wing but rather how they went about trying to achieve very similar programs for change.

Then you have emphasis. At anyone time a concentration on abortion laws, strike action, anti-war activity, building a rally, standing for Parliament or whatever may or may not be the right thing to do - but none of them are inherently more left or right wing than each other, but rather they are tactical considerations albeit ones that may have unintended political consequences.

All in all you have this complex mallange of strategy, tactics, personal history and tastes, errors of judgment, ways of working, accidents of philosophy, style and specific approaches to specific issues and the whole left/right thing starts to look less and less adequate as anything but a loose explanation.

Then we come to the second part of what I wanted to say - that all real parties, which have an actual internal life, are alliances of different political tendencies. Sometimes this is formal with specific in-party organisations (like the Fabians or Christian Socialists) and sometimes it's looser but no less real (like Blairites and Brownies).

Some people talk about Green Parties being divided between 'realos' and 'fundies' (or suits and tunics as I call them) but there are few Parties, if any, that actually have party groupings along those lines.

This means in general that parties can have both racists and anti-racists as members, pro-union and anti-union members, those who see elections as the be all and end all and those who come out in a rash at the very thought of canvassing the neighbourhood and asking for a vote or two. And, weirdly, that works.

There can be tensions or bouts of civil war but generally these alliances, of often very different kinds of politician, are stable, at least in established parties. That's stable and dynamic simultaneously, because of that very fact that we disagree and yet still come together.

When trying to capture the dynamic of any party we need to keep in mind that a) key fissures may not be left/right or revolutionary/reformist but over other kinds of disagreement, b) that parties are always in a process of change and development, c) that parties are also part of and influenced by more general social shifts and d) that decisions those parties take impact on how they behave in the future.

When I take a look at the 'Green Right' next time I'll try to keep things a little more concrete and practical, but I thought this might be a useful discussion to have first just to provide a kind of framework for debate.