I'm not a great fan of the meme viruses that work their way at random round the net in general, but occasionally I'll let one through. In this case a tough online interview with ace anarcho-blogger Disillusioned Kid. It's a privilege.

Here goes...

1. You're stranded on a desert island with a computer. Unfortunately for complicated technical reasons you wouldn't understand you can only have access to one website. Ever. Which one do you chose?

I'll start cheekily I think. Loband. It's a website designed for those places (mainly in the developing world where, no doubt, my island is) with really poor connections that strips away everything but the text from any site you care to mention.

I could use this site to access the web more widely and, as an added side benefit, if there were any totalitarian regimes monitoring my web usage (to check I'm adhering to the one site rule perhaps) it also acts as a proxy so I can browse away without fear of the secret police knowing which oppositional sites I'm visiting.


2. After an action you're involved in goes inexplicably wrong you find yourself trapped in the House of Commons. As your food runs out it becomes clear that your going to have to kill and eat one of the MPs. Who gets done first?

Brown might be an obvious choice, possibly opening the way to jokes abound Brown / HP Sauce. however, I've a feeling he's all fat and gristle and I'm in favour of a healthier diet. So I'm plumping for Shona McIsaac, Labour MP for Cleethorps, and vegetarian, shown here selecting our afters with John Reid. Not only will the meat be better for us, she wouldn't have been able to tuck in if we'd chosen anyone else anyway.

3. If you could abolish one sport forever, which one would it be?

Tricky. I'm not a great fan of rugby, after I received permanent tinnitus from playing it at school. I'm even less of a fan of great waddling scrums of drunken rugby lads - and would force them all to take up hopscotch, La Crosse and limbo dancing instead. Just for fun.

4. What is the single biggest barrier to left-wing/radical movements achieving their goals.

The economy. More than the state, petty sectarianism and plain bloody indolence put together the bread and butter facts of the economy are both the impetus to why we need a fundamental change in society and the greatest barrier to human solidarity, militancy and understanding the world.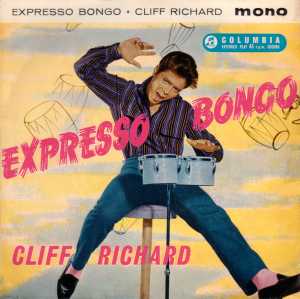 5. What's your opinion of Cliff Richard?

My Mum went to school with Cliff (Harry as was) and thinks none too highly of him. Who am I to go against a long standing family feud? Up against the wall with him!

Rules:

1. Leave me a comment saying, "Interview me."
2. I will respond by emailing you five questions (or leaving them in a comment on your blog). I get to pick the questions.
3. You will update your blog with the answers to the questions.
4. You will include this explanation and an offer to interview someone else in the same post.
5. When others comment asking to be interviewed, you will ask them five questions.